Despite how tasty the crockpot kalua turned out, my mind immediately turned to how to make a BBQ version. A few months ago, Sean introduced us to his poorman version of pulled pork BBQ and the great thing was that it was super easy — Trader Joe's carnitas, mustard and hot sauce. It definitely gives the flavor of BBQ without the sugars. After some searching around, I found that Carolina BBQ sauces are more mustard-based, so I figured that would be a good starting point for my own recipe as it should hold up well without the sugars.
You'll notice that the beginning preparation is much like the kalua pig and you finish by adding the "BBQ sauce".
First, pierce the pork roast all over with a carving fork. Rub the roast with 1 Tbsp kosher salt and 1 Tbsp liquid smoke.
Cook for ~8 hours on the fat cap, then flip and cook another ~8 hours on the other side.
Remove the roast from the crockpot and shred. Pour out the remaining liquid and set aside.
Then add to the empty heated crockpot (measurements are estimated, based on memory):
~9oz yellow mustard (whole bottle)
1/2c balsamic vinegar
1/4c apple cider vinegar
2 tbsp chili powder
1 tsp black pepper
1 tsp cayenne pepper
1 tsp coconut aminos
2 tbsp butter
2 jalapeños
a few shakes of hot pepper sauce
juice of 1/2 lemon
5.     Mix all ingredients together then stir in the shredded pork and top with the liquid drippings.
6.     Stir well and let cook on low for another 2-3 hrs before serving.
Give it a try and let me know what you think!
---
Also a very happy birthday to Ali! Welcome back and enjoy your birthday!!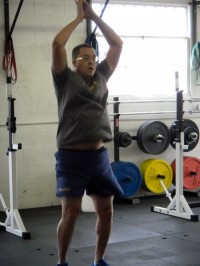 ---
WOD 1.28.11
Clean & Jerk 1-1-1-1-1